Why Join the SSWLHC Illinois Chapter?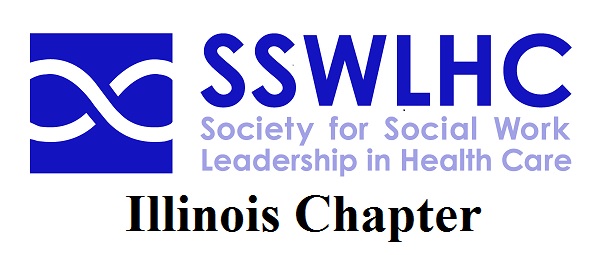 Since 1965, the Society for Social Work Leadership in Health Care Illinois Chapter has provided vital support to social work leaders in varied health care settings. It is committed to promoting the universal availability and effectiveness of quality health care.
By joining, members work on behalf of patients and consumers in hospitals, health maintenance organizations, home health agencies, long-term care facilities and other health care organizations.
The mission of the Society for Social Work Leadership in Health Care is to promote Social Work in health care throughout Illinois by:
Illinois Chapter of SSWLHC is organized in three geographic districts: Chicago, Northwest, and Southern.  Each district is responsible for its own leadership, development, programming and meetings. Each district holds regular membership meetings
Listen to the SSWLHC Illinois Chapter Most Recent Webinar!
Best Practices in Social Work Healthcare in time of COVID by SSWLHC

Description: You are invited to panel conversation with various Chicagoland hospitals and institutions on Social Work Best Practices in Healthcare in the Time of COVID.
AGENDA
The Society for Social Work Leaders in Healthcare – IL Chapter (SSWLHC) is hosting a two-part conversation led by Professor Stanley McCracken, AM, PhD, surrounding social work in healthcare during this time of COVID 19.
Introductions & Zoom user tips – SSWLHC Board President Claudia Cook & Board Member Javier Thompson
"From Crisis to Chronic Stress to a New Reality" – Prof. Stan McCracken, AM, PhD
Social Work Best Practices in the Time of COVID (panelists from various Chicagoland area hospitals and institutions)
Discussion – Prof. Stan McCracken, AM, PhD
Polls + CEU Evaluations – SSWLHC Board Members: Tessa McEwen & Soo Shim
Closing reflection – Prof. Stan McCracken, AM, PhD