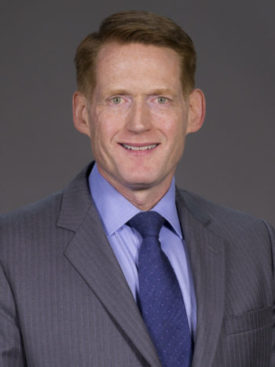 Dear Colleagues
I am honored to be assuming the role of President for the Society for Social Work Leadership in Health Care (SSWLHC).  Having been a hospital social worker for my entire career, this organization has been very important to my professional development and I am privileged to be able to oversee SSWLHC for the next two years.  I am indebted to our outgoing President, Scott Ferguson for his superior leadership over the past two years.  Scott's tenure accomplished a great deal and we will continue this important work focusing on strategic partnerships, improving communication to the membership (through improved social media and our new website), and promoting and further developing our Leadership Institute and mentoring program.  Additionally, we hope to address some of the current events in health care.
It's an understatement to say that our current health care system is in disarray.  Our clients/patients are typically among the most vulnerable and in need of unobstructed access to affordable, quality health care.  It is my goal to support the membership and promote social work's advocacy role, highlighting the necessity to consider social factors as they intersect with a person's health.  As early as 1937, social workers such as Janet Thornton*, then Director of Social Services at Presbyterian Hospital in New York City, was writing and instructing on the social factors impacting health and published The Social Component in Medical Care (Columbia University Press, 1937), a still relevant taxonomy categorizing social factors impacting "recovery".  Current Delivery System Reform Incentive Payment (DSRIP) programs have underscored what social workers have known for decades, that the social determinates contribute overwhelmingly to a person's health and to their ability to recover from illness or to manage a chronic or life-limiting illness.
The SSWLHC is currently collaborating with a national workgroup that is establishing rationale and actively securing sponsorship for  a major consensus study by the Health and Medicine Division of the National Academies of Sciences, Engineering, and Medicine addressing the importance of integrating social needs care into the delivery of health care; health care social workers are essential to this endeavor.
Over the next few months (particularly at October's national conference in Baltimore), I hope to meet all of you and to hear directly how SSWLHC can remain relevant to your practice and support your efforts to help your clients/patients.  Please feel free to reach out to me (thomas.sedgwick@nyumc.org) with any questions or suggestions.
By Tom Sedgwick, MSSW, LCSW, CCM
Senior Director of Social Work
NYU Langone Health
New York, NY
*Janet Thornton (1881-1963)was instrumental in the formation of the Social Work Section of the American Hospital Association, which transitioned to the current independent Society for Social Work Leadership in Health Care.