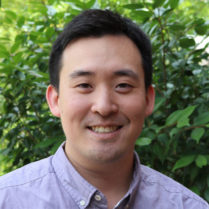 Member Spotlight
Name: Kelson Okimoto
Current role/Sector/Location:
Manager, Palliative Care Consult Service, University of Washington (UW) Medical Center Metrics Analyst, UW Medicine Palliative Care
Education:
B.S. in Health Informatics, University of Washington, Seattle.
MSW candidate 2018, University of Washington, Seattle
What sparked your interest in becoming a social worker:
My journey to social work began with an interest in performance improvement and practice transformation. In my first health care position as a data analyst for an acute care medical center, I was fortunate to work closely with clinician leaders and clinical informatics personnel on performance outcome measures. This role introduced me to the unique positions social workers possess, in their ability to improve patient care (through direct patient care, policy and advocacy work, and hospital leadership roles), igniting my pursuit to integrate a social work lens within my career in data analytics.
What advice would you give to new social workers:
I've heard professionals in the field regularly discuss burnout and challenges. The best advice I can give as a social work student, is to be kind to yourself (recognize the work you have done, and that it's not easy work). We are often too busy to take in our accomplishments, or may disregard a simple "thank you" from a patient as common etiquette. Take a moment to accept and welcome praise.
Accomplishments and Awards:
Recipient: 2015 Outstanding Undergraduate, UW School of Public Health
Recipient: Dean's Society, Honored Student Leader 2015
Recipient: Carol LaMare Scholar, Competitive Placement in Oncology and Palliative Care, UW School of Social Work
Recognition: UW Alumni Spotlight 2017
Favorite Quote:
"The best way to not feel hopeless is to get up and do something." – Barack Obama
Contact information:
Kelson Okimoto
Department of Family Medicine
University of Washington
UW Box 356390
1959 NE Pacific St.
Seattle, WA 98195
Nominate a friend or colleague to be a member of the month today! To nominate someone, click here.