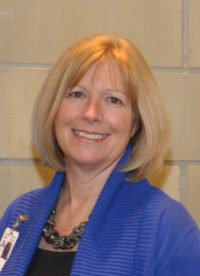 Name: Karen Nelson
Current role/Sector/Location: Director, Social Work and Case Management, Stanford Healthcare, Palo Alto, California
Education: BA and MSW, Wilfrid Laurier University, Waterloo, Canada, MBA, University of Ottawa, Canada
What sparked your interest in becoming a social worker?: I was very torn between pursuing a career in business versus one in social work.  In in the end I decided I would enjoy the studies and the opportunities to help others through pursuing social work as a career.  Later in my career I got the opportunity to obtain an MBA, so I did get to fulfill both desires.  Social Work is different every day, never boring, because we are involved in understanding people and their needs.  I think that is also what I thought would be compelling and challenging and it has made every day at work meaningful.
What advice would you give to new social workers?:  Unlike some professions where you may graduate and feel that you have all the latest knowledge and skills possible to immediately excel at the job, social workers acquire and hone many of our skills through practice and feedback.  We learn from our patients or clients by interacting with them and we are able to improve our skills through supervision and self-reflection.  We actually get better at the job the more we do the job!  Stay open to learning, pursue all opportunities to gain more experience, and be humble.
Accomplishments and Awards: 
Recipient of the Ottawa Hospital Compass Award, 2010
Recipient of the Recognition for Service Award presented by the Ontario Association of Social Workers, 2010
Recipient of the Huntingdon's Society of Canada Award of Merit, 2011
Recipient of the 2013 Inspirational Leader Award, presented annually by the Ontario Association of Social Workers
Recipient of the 2015 Bessie Touzel Award, awarded by the Ontario  Association of Social Workers Eastern Branch
Favorite Quote: Everyone has a purpose in life…a unique gift or special talent to give to others. And when we blend this unique talent with service to others, we experience the ecstasy and exultation of our own spirit, which is the ultimate goal of all goals.  – Deepak Chopra
Contact information:
Karen Nelson
Director, Social Work and Case Management
Stanford Healthcare
300 Pasteur Drive, Palo Alto, Ca 94301
knelson@stanfordhealthcare.org
Nominate a friend or colleague to be a member of the month today! To nominate someone, click here.