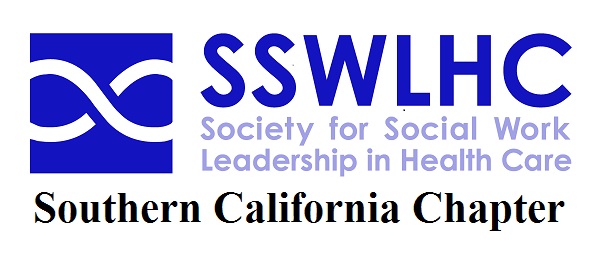 The Association of Social Work Leaders in Healthcare, Southern California, was formed in 1968 by a group of hospital social work directors as the Society for Social Work Directors in Health Care. It eventually became the Society for Social Work Administrators in Health Care (SSWAHC), informally affiliated with the national organization of the same name. Our purpose is to provide educational programs, networking and a resource for professionals at all levels in the healthcare social work field. In the past, the Association was aimed primarily at medical social service administrators. In the 1990's, budgetary cutbacks led to fewer administrative positions and a growing recognition that all healthcare social workers – administrators, supervisors and patient care staff — have leadership functions and ongoing needs for education and support. With this trend, the national organization substituted the word "leaders", and our local organization followed, becoming the Society for Social Work Leaders in Health Care (SSWLHC).
When the national SSWLHC reorganized in 2010, it decided to formalize its affiliations with local entities like ours and become an official umbrella organization. Our membership wished to remain an independent, local entity, so we changed our name to the Association of Social Work Leaders in Healthcare – Southern California (ASWLH).
ASWLH provides educations programs, resources and networking for professionals (LCSW's) in health care social work. The ultimate focus is on health care social work and patient care. They also provide scholarships to MSw students.
The benefits of being an ASWLH member include:
Group email access for networking, announcements, data/resource sharing
Advertising or searching job openings
ASWLH Membership Directory
Discounted rates at our CEU educational offerings
Intensive Workshops
Yearly vendor fair to provide networking/resources to health care professionals in the area
Scholarship eligibility for a national conference
Nominate an emerging leader for a free year's membership
"Bulletin Board" access for news and updates related to our field
Opportunity to gain Board experience and further your networking
Fall 2017 Law & Ethics Seminar
Registration will be opening soon.
Board Title
Name
Company
President
Kristi Harrison,
MSW
Valley's Best Hospice
President Elect
Izzette Aragon,
LCSW, LPCC, DSWC
HealthCare Partners
Past President
Lori Pohl,
LCSW
Kaiser Permanente Medical Center – Downey
Secretary
Elsa Stefanian,
LCSW
Treasurer
Yolanda Patton,
LCSW
Nominations
Renee Ortiz,
LCSW
City of Hope
MSW Student Scholarships Coordinator
Kristi Harrison,
MSW
Valley's Best Hospice
CEU/LCSW Consultant
Marcia Penido,
LCSW
Huntington Memorial Hospital
Membership Coordinator
Tracey Bush,
LCSW
Kaiser Permanente Medical Center – Panorama City
Vendor Fair Coodinator
Bill Mejia,
LCSW
Huntington Memorial Hospital
National Liaison
Gina Andres,
LCSW
Health Essentials
Member Scholarships Coordinator
Amy Donner,
MSW
City of Hope National Medical Center