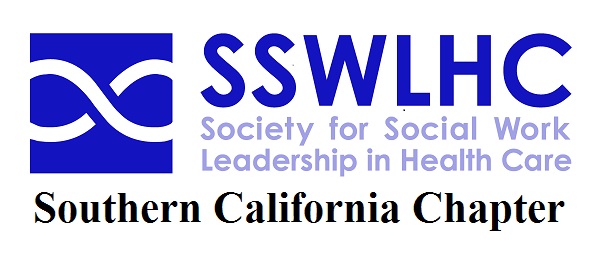 The Association of Social Work Leaders in Healthcare, Southern California, was formed in 1968 by a group of hospital social work directors as the Society for Social Work Directors in Health Care. It eventually became the Society for Social Work Administrators in Health Care (SSWAHC), informally affiliated with the national organization of the same name. Our purpose is to provide educational programs, networking and a resource for professionals at all levels in the healthcare social work field. In the past, the Association was aimed primarily at medical social service administrators. In the 1990's, budgetary cutbacks led to fewer administrative positions and a growing recognition that all healthcare social workers – administrators, supervisors and patient care staff — have leadership functions and ongoing needs for education and support. With this trend, the national organization substituted the word "leaders", and our local organization followed, becoming the Society for Social Work Leaders in Health Care (SSWLHC).
When the national SSWLHC reorganized in 2010, it decided to formalize its affiliations with local entities like ours and become an official umbrella organization. Our membership wished to remain an independent, local entity, so we changed our name to the Association of Social Work Leaders in Healthcare – Southern California (ASWLH).
The benefits of being an ASWLH member include:
Group email access for networking, announcements, data/resource sharing
Advertising or searching job openings
ASWLH Membership Directory
Discounted rates at our CEU educational offerings
Scholarship eligibility for a national conference
Nominate an emerging leader for a free year's membership
"Bulletin Board" access for news and updates related to our field
Opportunity to gain Board experience and further your networking
Vendor Fair 2016
From Paternalism to Autonomy: The Role of the Social Worker in the Clean Up Crew
Presented by: Wendy Kohlhase, LCSW, PhD
When: Wednesday, May 11, 2016 | 9am-3pm
Where: City of Hope – Cooper Auditorium |1500 E. Duarte Road | Duarte, CA 91010 | 626.256.4673
FREE for ASWLH-SC members and their registered guests
Breakfast & lunch will be provided prior to course offering.
E-mail or fax registration using the form below.
Registration Form
Click Here to Download
Speaker: Wendy Kohlhase
Wendy Kohlhase was awarded her Doctorate in Philosophy in Social Ethics and Biomedical Ethics from USC in 1993. She is also an LCSW and graduated in 1995 from USC with her Masters in Social Work. Since 1995, Wendy has provided consultation services to healthcare facilities in the development and management of bioethics and organizational ethics programs, including committee structure, case review, education, policy writing and quality evaluation. She also provides consultation to institutional review boards (IRBs) and contract research organizations regarding compliance to the FDA Code of Federal Regulations for the protection of human subjects of research, as well as administrative management and study coordination for clinical trials research.
Wendy became a member of the Graduate Medical Education Faculty at Huntington Hospital in 1995, facilitating lectures, case discussions and debriefings for medical residents. Wendy has a private practice providing medical psychotherapy, critical incident stress debriefing and bioethics consultation to individuals dealing either with stressful life situations or with issues that are created by illness or injury. Ms. Kohlhase is a member of the American Society of Bioethics and Humanities and the Southern California Bioethics Committee Consortium. She holds multiple committee and consultation positions, including Institutional Review Board Member for Fuller Seminary and Huntington Hospital in Pasadena and Bioethics Consultant for Valley Presbyterian Hospital in Van Nuys, Methodist Hospital in Arcadia, Huntington Hospital in Pasadena and USC Verdugo Hills Hospital in Glendale.
About the Vendor Fair
As the Southern California Chapter of the Society for Social Work Leadership in Health Care, it was decided in 1984 to host a "vendor fair". The goal was to create an event in which vendors would be able to meet and network with our chapter membership in a stress-free environment.
In addition, the chapter would be able to raise funds that would provide scholarships for selected graduate social work students, as well as enable Society members with financial constraints to attend local, statewide, and national workshops and conferences. Additionally, it enabled our Chapter to provide several local educational opportunities each year at a nominal cost to our members. The ASWLH has continued this annual tradition.
The Vendor Fair gives attendees the opportunity to meet directly with the staff of over 40 companies and agencies, facilitating a rich exchange of information. The vendors have an opportunity to better understand the needs and issues of our members by speaking with them individually and in person. Our members and other participants become better acquainted with the services available in their communities with a direct contact toward accessing them. It is set up as an opportunity for information exchange and camaraderie in a relaxed atmosphere. Participants enjoy a full breakfast and lunch, time to visit with and meet colleagues, and a raffle with over 20 prizes donated by individual vendors.
We greatly appreciate our many vendors' generosity which underwrites the Vendor Fair each year so that it can be offered at no charge to Association members and their guests. As our only annual fundraiser, the net profits fund the Association's scholarship programs and discounted CEU educational events.
Thank you to all the healthcare vendors who make this possible!
Course
This course is designed for social workers with at least 1 year of clinical practice, but we welcome MSW students and new graduates who wish to learn more or prepare for licensure.
At the conclusion of the program participants will be able to:
Describe the evolution of paternalism to patient autonomy.
Describe three underlying issues patients/families have when requesting medically ineffective treatment.
Describe three roles the social worker has in "cleaning up" during and after a family meeting.
Schedule
Time
Agenda
9:00 - 10:00
Registration & Breakfast
10:00-10:30
Vendor Fair
11:30-1:00
Vendor Fair
1:00-3:00
From Paternalism to Autonomy
The Clean-up Crew: The Role of the Social Worker
Presented by Wendy Kohlhase, LCSW, Ph.D.


Hosts and Sponsors
| Our Generous Hosts | Our Sponsors |
| --- | --- |
| Accredited Home Health Services | 24 Hour Home Care |
| Coram Specialty Infusion Services | A Prime Home Care Services |
| Country Villa Health Services | AAA T.L.C. Health Care |
| Health Advocates, LLC | Active Hospice Care, Inc. |
| Rehabilitation Centre of Beverly Hills / Beverly Hills Carmel | Advanced Pharmacy Solutions & Respiratory Care Solutions |
| Silverado Senior Living | Advantage Plus Agency |
| Skilled Healthcare, LLC | Always Right Home Care |
| Walgreens Infusion Services | American Medical Response |
| | American Sleep Centers |
| | Assured in Home Care |
| | Belmont Village Senior Living |
| | California Home Care Nursing Services International Corp. |
| | Continuity Care Home Nurses |
| | Dynamic Home Care / Dynamic Nursing Services |
| | Good Company Senior Care |
| | Heartland Hospice and Infusion |
| | Home Care Providers |
| | Home Instead Senior Care |
| | IV League Pharmacy |
| | IV Med Services |
| | Life Care Solutions |
| | Maxim Health Care Services |
| | Miracle Home Health |
| | Oso Home Care |
| | Premier Infusion |
| | Salus Home Care |
| | Seasons Hospice & Palliative Care of California |
| | Shield Healthcare |
| | Social Service Professionals |
| | Supercare Respiratory and Infusion |
| | Vitas Innovative Hospice Care |
| | Western Drug Medical Supply |
Board Title
Name
Company
President
Kristi Harrison,
MSW
Valley's Best Hospice
President Elect
Izzette Aragon,
LCSW, LPCC, DSWC
HealthCare Partners
Past President
Lori Pohl,
LCSW
Kaiser Permanente Medical Center – Downey
Secretary
Elsa Stefanian,
LCSW
Treasurer
Yolanda Patton,
LCSW
Nominations
Renee Ortiz,
LCSW
City of Hope
MSW Student Scholarships Coordinator
Kristi Harrison,
MSW
Valley's Best Hospice
CEU/LCSW Consultant
Marcia Penido,
LCSW
Huntington Memorial Hospital
Membership Coordinator
Tracey Bush,
LCSW
Kaiser Permanente Medical Center – Panorama City
Vendor Fair Coodinator
Bill Mejia,
LCSW
Huntington Memorial Hospital
National Liaison
Gina Andres,
LCSW
Health Essentials
Member Scholarships Coordinator
Amy Donner,
MSW
City of Hope National Medical Center