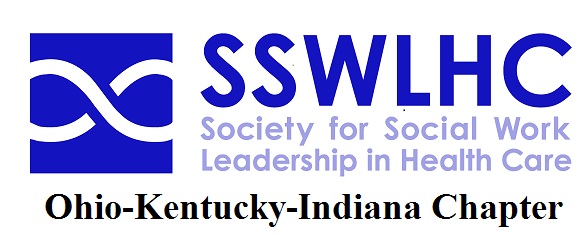 Why Join Ohio-Kentucky-Indiana (OKI)?
Belonging to a professional association such as OKI (Ohio, Kentucky, and Indiana) Social Work Leaders in Health Care helps make professional connections focused on the practice of social work in hospitals, nursing homes, home care, and any other health care related field.
Associations are one of the most valuable, inexpensive and under-utilized business resources for the professional.  The opportunity to affiliate with other professionals who have common interest is crucial in sharing both frustrations and success.  The support that comes from gaining insights from colleagues who have common experiences improves skills in finding solutions to shared problems in the field of Social Work.  Becoming affiliated with other Social Workers in health care provides a window into the future of the industry and practice of Social Work.
OKI (formerly Society of Social Work Leaders in Health Care) has been in existence for over 30 years.  The group originally began as the Hospital Social Work Directors Committee and since has developed into a community of health care social work practitioners you can call on for help, advice and collaboration.  In the new world of social media, direct relationships with your colleagues will always stand the test of time and provide meaningful support.
Member Benefits
Quality low cost CEU's on topics of member interest
Ethics and Supervision training that meet Social Work Board requirements
Professional networking with peers
Social gatherings
Access to e-mail list to send out requests for information to fellow members who have a broad range of practice experience
Mentoring for new managers—new managers can be paired with an experienced social work manager for ongoing mentoring
Social work students can learn about the field of social work and diverse work opportunities
There are no upcoming events at this time.
For more information please email:
President: Ashley Bush